« Shows & Personalities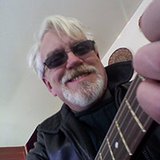 Waldo
On Air:
I knew I was in radio for good when I landed a gig at "The Coyote" in Santa Fe during the '90s. Spent years in the L.A. music scene and touring with bands throughout the southwest. Got off the road and into the recording studio and have been there ever since... My radio career kept me moving, between Texas, California, New Mexico & Colorado until an extended radio gig in Michigan made me fall in love with the Great Lakes area. But wait - then I discovered Sheboygan. Wow. You guys have sure kept a great secret all these years... So Sheboygan is home for good, or until they kick me out! What's not to love here?

My day gig is cranking out radio spots for The Buzz and our three sister stations. Crazy as it seems, music, audio & video are also my hobby, so you won't find a hobbies section here. I've been told more than once to go home, so I do - to my recording studio. My wife's a music & radio 'lifer' too, so we're basically swimming in it. My poor cats, Peeves & Jeeves. They've got their own headphones. Actually earmuffs for when I'm mixing...

So, if I ever sound like I'm a little too deep into the music, the artist, what they were doing in 1979, 1994, or where they were on tour yesterday, it's because I am. Sick, really. To top it off, I'm an ASCAP published commercial jingle writer... But this is radio, and music is why we're here... I think?

Elbows rubbed professionally: Leo Kottke, Joe Cocker, Kenny Loggins, Van Halen, Billy Gibbons, Roger McGuinn, Joan Baez, Indigo Girls, Kenny Wayne Shepherd, Al Di Meola, Stevie Ray Vaughan, Gene Hackman, Kevin Costner, Ali MacGraw, Freddy Jones Band, October Project, Aimee Mann, Anita Baker, Natalie Cole, Ray Manzarek, Bob Seger.

Labels & Studios whose checks actually cleared the bank: A&M, Geffen, BMG, Sony, Polygram, Interscope, Chrysalis, Warner Bros, CBS, NBC, The Burbank Studios, Disney, Motown Hitsville, Culver City Studios, The Hit Factory, Soundcastle...

Waldo Music Favorites: Dream Theater, Steely Dan, Little Feat, King Crimson, Gentle Giant, Stevie Ray Vaughan, Hendrix, Eric Johnson, Al DiMeola, Van Halen, Peter Gabriel, Alison Krauss, Emmylou Harris, Daniel Lanois, Johnny Winter, ZZ Top. Plus three Modern Rock bands out of Texas: Secret of Boris, Adakain, and The Gloria Record.

Non-Radio Enjoyment: Cooking. My apologies to all of our fine Sheboygan dining establishments - and we have some great ones here along the Lakeshore - but my wife & I will take you on any day of the week. Our years on the West Coast and in New Mexico bring us a secret weapon to the Great Lakes, rarely wielded in these parts: Fire-roasted chiles and really weird spices. If we ever open a restaurant, my listeners will be the first to know. Suffice to say, at our studio, Sheboygan Soundworks, the lucky band or solo artist getting their album mixed eats at a five-star establishment. Just sayin - bring it! Speaking of cooking, there are lots of 'hot' musicians in the area that aren't networked. Always interested to help connect the right players in the Sheboygan area. Just email me at 1065TheBuzzWaldo@gmail.com.