« Shows & Personalities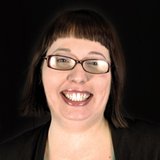 Franki Starr
On Air:
Hi everyone! Franki Starr here. I hail from the great city of Sheboygan. My two favorite things in the whole world would have to be music and coffee. Preferably, drinking coffee whilst listening to music. That's my Zen, if you will.

Here are some other juicy details to get to know me!

College Attended: UW-Stevens Point, home of the world's largest Trivia contest!

Hobbies: Listening to music, Singing, Reading, going to live shows, watching many movies & way too many TV shows to count.

Favorite Bands: Incubus, Sevendust, Evanescence, Shinedown, Breaking Benjamin, The Clash, Talking Heads

Favorite Movies: High Fidelity, Grosse Point Blank, Pretty In Pink, Say Anything, Amelie, Halloween (original & Rob Zombie's versions), ALL HARRY POTTER MOVIES. I love Harry Potter. Just saying...

Favorite TV Shows: The Walking Dead, Parks N Rec, 30 Rock, It's Always Sunny in Philadelphia, Curb Your Enthusiasm, Grey's Anatomy, Once Upon a Time, Gossip Girl

Favorite Beer: New Glarus Spotted Cow - A beer bottle that has a label with a cow on it does it really get any better?? I think not. Blue Moon comes in at a close second place for me!