« Shows & Personalities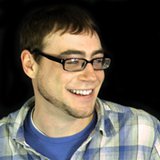 Bildo
On Air:

Weekdays, 9am - Noon; Weekdays, 5pm - 7pm
Hometown: Born over yonder in Germany, spent my formative years in Oostburg, moved to Minneapolis for school and have lived in ol Sheboygan since 2005.

Favorite bands: I listen to a lot of borderline crazy metal music. Between the Buried and Me will go down as one of my favorite bands ever. Born of Osiris is up there, The Black Dahlia Murder, Periphery, The Curse of Hail, Attila, The Deftones, Animals as Leaders, Scale the Summit, After the Burial… Uhhhh some bananas stuff but give it a chance… You'll dig it…

Favorite TV shows: I'm a sucker for watching the NFL any chance I can. I'm an absolute South Park addict, it gets bad sometimes… Family Guy is solid but I wouldn't put it on the South Park level. Modern Family, Dexter, Sons of Anarchy. For whatever reason I never hopped on my older brother's bandwagon and got into Mystery Science Theater 3000 but since I got into the old Netflix thing it's about all I've been watching. I love watching crazy war and serial killer documentaries as weird as it may be to say… But I dig em…

How I got into radio: Little Bildo did a job shadow at WWJR when I was in 6th grade and knew a profession of making fun of myself was the best route to go… I do it often enough anyway so may as well do it a little more publicly… Interned with Average Joe during High School and had just a blast with it (anyone remember Little Willy???). Finally got my full time position early 2012 and I love it a million times more than I thought I would… Thanks for all the nice words (lies or not, I'll take them all).