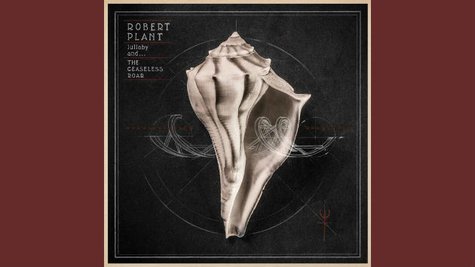 Led Zeppelin 's Robert Plant has announced details about his forthcoming album, which he recorded with his current band, The Sensational Space Shifters . Titled Lullaby and… The Ceaseless Roar , the record will be released on September 9.
The album features 11 newly recorded tracks, including nine original songs that Plant wrote with members of The Sensational Space Shifters. The non-originals are a rearranged rendition of the traditional tune "Little Maggie" and "Poor Howard," an adaptation of the Lead Belly song "Po' Howard."
"It's really a celebratory record, powerful, gritty, African, Trance meets Zep," says Plant. "The whole impetus of my life as a singer has to be driven by a good brotherhood. I am very lucky to work with The Sensational Space Shifters. They come from exciting areas of contemporary music."
As for what inspired the new album's songs, the 65-year-old Rock and Roll Hall of Famer explains, "I see life and what's happening to me. Along the trail there are expectations, disappointments, happiness, questions and strong relationships…and now I'm able to express my feelings through melody, power and trance; together in a kaleidoscope of sound, color and friendship."
Lullaby and... The Ceaseless Roar will be available in a variety of configurations, including a multiple-disc package featuring a two-LP, 180-gram vinyl set; a CD; and a digital download. Various editions are available with an exclusive print of the cover art. The album can be pre-ordered now at RobertPlant.com , and those who do pre-order it also will be able to access downloads of some of the tracks prior to the September 9 release date.
A preview trailer for Lullaby and... The Ceaseless Roar , as well as a video premiering the new song "Rainbow," have debuted at Plant's official YouTube channel .
In other news, Plant has confirmed that he and The Sensational Space Shifters will be performing on September 27 and 28 at the Brooklyn Academy of Music in New York City, in conjunction with a special concert dubbed Nonesuch Records at BAM: Celebrating 50 Years of the Label Without Labels. The group will announce additional North American tour dates soon, but currently is in the midst of a European tour that will include an appearance this Saturday at the U.K.'s famed Glastonbury Festival. Check out all of Plant's tour dates at RobertPlant.com .
Here is the full track list of Lullaby and... The Ceaseless Roar :
"Little Maggie"
"Rainbow"
"Pocketful of Golden"
"Embrace Another Fall"
"Turn It Up"
"A Stolen Kiss"
"Somebody There"
"Poor Howard"
"House of Love"
"Up on the Hollow Hill (Understanding Arthur)"
"Arbaden (Maggie's Babby)"
Follow @ABCNewsRadio
Copyright 2014 ABC News Radio