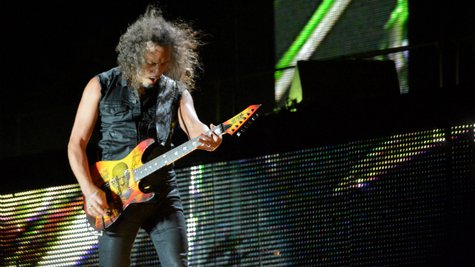 It's been almost 30 years since Metallica released its second album, Ride the Lightning. The album was released July 27, 1984, and guitarist Kirk Hammett pauses to recall it for the August issue of Guitar World magazine.
Hammett tells Guitar World , that recently listening back to the classic title track he had "absolutely no recollection" of playing so many guitar harmony parts.
"When the whole thing slows down and there's that solo section," Hammett adds, "I remember I pretty much played that solo as it is off the bat."
Hammett was 21 when Metallica recorded Ride the Lightning, and looking back at it as a man in his 50s, he says, "the actual sound of the album is still good."
The cover of Guitar World 's August issue shows Hammett with a guitar in his left hand while he's strapped to an electric chair -- a nod to the meaning of the album's title, which Hammett actually took the time to explain to his kids.
"I'm like, 'These people are taking a picture of me in an electric chair!'" he says. "They're both young, so of course they said, 'Why?' I explained it's because we have a song called 'Ride the Lightning' and that's another way of saying, 'You're getting electrocuted in an electric chair!' Then I had to play them the song and sing them the lyrics. They're sitting there looking at me, like, 'Wow.'" That's life when your dad's in Metallica.
Follow @ABCNewsRadio Copyright 2014 ABC News Radio