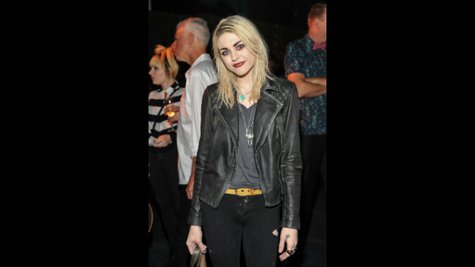 Frances Bean Cobain -- daughter of Courtney Love and the late Kurt Cobain -- has taken issue with something Lana Del Ray recently said in an interview. In a sit-down with the U.K.'s Guardian newspaper last week, Del Ray was asked about the early deaths of many of her musical heroes including Amy Winehouse and Kurt Cobain , to which she replied, "I wish I was dead already." When the interviewer argued with her, Del Ray insisted, "I don't want to have to keep doing this. But I am."
Frances Bean Cobain has responded on her Twitter -- in two posts that have since disappeared -- " the death of young musicians isn't something to romanticize" and " I'll never know my father because he died young & it becomes a desirable feat because [people] like u think it's 'cool'."
After a fan chastised Cobain for attacking Del Ray, Cobain responded with " I'm not attacking anyone. I have no animosity towards Lana, I was just trying to put things in perspective from personal experience."
Kurt Cobain committed suicide on April 5, 1994, when Frances Bean was 20 months old.
Follow @ABCNewsRadio
Copyright 2014 ABC News Radio