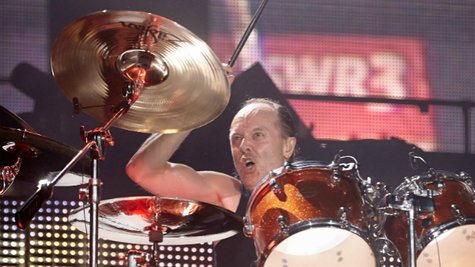 It's officially a three-way. The drum-off between Will Ferrell and Red Hot Chili Peppers drummer Chad Smith has picked up another contestant -- Metallica 's Lars Ulrich .
Earlier in the week in an interview with SPIN , Ferrell said that he and Smith were throwing down the gauntlet to "a third person that looks eerily similar to Chad and I. A third drummer out there." Smith then dropped Ulrich's name.
Ferrell told SPIN, "Lars gets pissed because he gets mistaken for both me and Chad Smith. He can settle that score now, too."
In a statement to SPIN , Ulrich said, "It was a little lonely on the sidelines during the first drum-off, given the somewhat forced nature of the lookalike element between Chad Smith and Will Ferrell, when I'm TRULY the one carrying that dead-ringer gene around! As for any further drum-offs, I'm sure that with a bit of practice, I could give Chad a run for his money. But Will? That's a whole different story. He rules the 'bad-ass drummer universe.' I mean, you're talking about a guy who's so next level, actually, so beyond next level, that he may just be completely unreachable! That said, I'm definitely up for the challenge…Bring it on!!!"
Will Ferrell responded via Facebook with, " Two pieces of advice for Lars: Leave the double bass drums at home and load up on cowbells!"
No word from Lars Ulrich as to the charity, if any, he will raise funds for. The original drum-off raised more than $300,000 for charities designated by Smith and Ferrell: Little Kids Rock and Cancer for College, respectively.
If you missed the drum-off between Smith and Ferrell you can still catch it on the official YouTube channel of The Tonight Show Starring Jimmy Fallon .
Follow @ABCNewsRadio
Copyright 2014 ABC News Radio