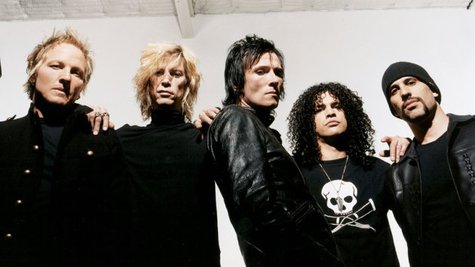 Well, you can't fault him for not being honest. Former Velvet Revolver singer Scott Weiland says he's willing to play some reunion gigs with his former bandmates, but not because he's looking to reconcile -- he just needs the money.
Despite his departure from Velvet Revolver six years ago -- it's never been quite clear whether Weiland quit, was fired, or some combination of the two -- the singer tells the French-Canadian newspaper La Presse there are no hard feelings.
"With Velvet Revolver, there's no problem," Weiland says. "I even called the guys to suggest we do some shows together in a few months. We're on good terms, but I don't want to be a member of Velvet Revolver full-time. If possible, I'd like for us to only do festivals. Y'know, to make easy money."
Not that we're likely to see a Weiland-Velvet Revolver reunion anytime soon: Weiland says the other VR members are either too busy to consider a reunion, or they don't need the money. "Dave [Kushner] made music for TV, the theme for Sons of Anarchy ," says Weiland. "Duff [McKagan] made a lot of money in the stock market. As for Slash, he put aside the money made from the Guns n' Roses days. Matt [Sorum] has done a bunch of stuff."
Even so, it sounds like Weiland will have a better chance of mending fences with Velvet Revolver than with Stone Temple Pilots . It's been almost 18 months since he was fired from the band, for reasons that remain murky, at least publicly. His former bandmates then sued Weiland for performing STP songs during his solo shows and trading on the band's name. Weiland counter-sued, saying STP's suit was without merit, since he co-founded STP and wrote much of the band's material.
So how are things are going on that front? Not surprisingly, Weiland doesn't have much to say. "As for Stone Temple Pilots, we're still in mediation and my lawyers have forbidden me from talking about what's going on because it could be harmful [to our case]," he says.
Follow @ABCNewsRadio
Copyright 2014 ABC News Radio