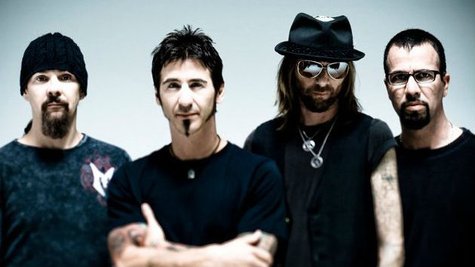 Godsmack is busy bigging-up their new release, 1000hp , and is taking fans behind-the-scenes in a series of webisodes. The second of the series is streaming live now and offers a peek inside the studio walls.
The clip shows the band members putting in time in their rehearsal facility outside of Boston, MA, writing and honing the tracks that would ultimately become 1000hp . The band then travels to California and lays down the tracks at Hollywood's Ocean Way Studios.
The five-minute video not only covers the nuts-and-bolts of putting together the album, but also offers a little Godsmack philosophy lesson about the thinking behind the process. Frontman Sully Erna says he and his band mates check their egos at the door, because, "That's a promise we all had made to each other a long time ago -- we always write what is best for the record, not individuality [and] not egos."
In addition to watching the webisode, visit Godsmack.com to pre-order 1000hp packages with cool goodies like colored vinyl and signed drum heads.
1000hp hits digital and brick-and-mortar stores on August 5.
Follow @ABCNewsRadio
Copyright 2014 ABC News Radio