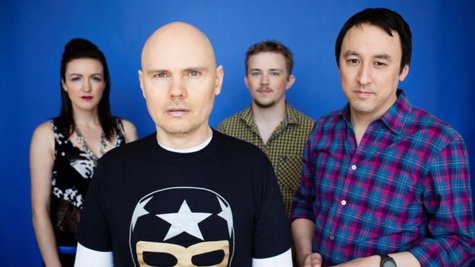 Chicago-area Smashing Pumpkins fans will get a treat next month when frontman and founder Billy Corgan plays a special hometown solo acoustic set at the Ravinia Festival Saturday, August 30.
Corgan will play a selection of songs from the Smashing Pumpkins catalog, as well as from Corgan's solo efforts and his short-lived band, Zwan . A performance highlight will be what's being called a "Mellon Collie Suite" of songs to mark the 20th anniversary of Corgan's writing of the 1995 Smashing Pumpkins double-CD release, Mellon Collie and the Infinite Sadness , the band's most commercially successful album.
"I feel like a songwriter, in that there's this extensive body of work that sort of exists as if it never happened," Corgan says in a statement. "Most of that is my fault, and it's my hope that going forward I'll play just as much in an acoustic format as I do in an electric one." As for playing selections from his non-Smashing Pumpkins catalog, Corgan says, "that's a joy, because many of the best songs have never been played, or in the case of those from the Zwan period, unplayed for over 10 years."
Any chance we'll hear some new music during Corgan's acoustic Ravinia Festival set? "There's a chance I'll play one, maybe two, but the issue there is having new work judged before the album version is heard," he says.
For tickets and other info, head over to Ravinia.org .
In other news, Corgan will be honored with the Alternative Press Vanguard Award at the Inaugural Alternative Press Music Awards this Monday, July 21 at the Rock and Roll Hall of Fame and Museum in Cleveland, Ohio.
Follow @ABCNewsRadio Copyright 2014 ABC News Radio