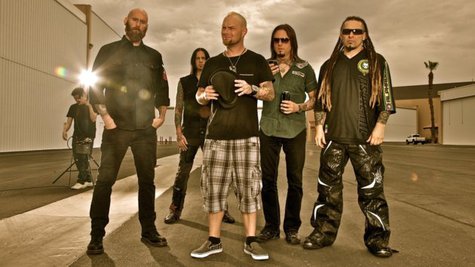 The members of Five Finger Death Punch have filmed a new video for their song "Wrong Side of Heaven." The video is a powerful narrative of the circumstances facing war veterans, focusing on the emotional issues that plague them when they return home from battle.
Death Punch guitarist Zoltan Bathory tells ABC News Radio that the hard-hitting nature of the video was intentional. "The main goal we wanted to accomplish [with] this video [was] to really hit people in the chest," he admits. "The entire video was about the emotional load and exploiting what PTSD really means and what's going on in post-war situations with these soldiers."
Bathory says he screened the video for those whose opinions mattered most, his soldier friends. "I have a lot of friends who are military or ex-military and have PTSD," he says. "Every single one of them practically broke down watching this video. So we knew we did actually accomplish [something] and hopefully it will bring public awareness [to the issue]."
The new video for "Wrong Side of Heaven" will stream live on 5FDP's VEVO channel beginning Monday. That same day, Five Finger Death Punch will host a military video screening and meet-and-greet at Nellis Air Force Base, just outside of Las Vegas.
Follow @ABCNewsRadio
Copyright 2014 ABC News Radio